6 August 2009
by R.A. Porter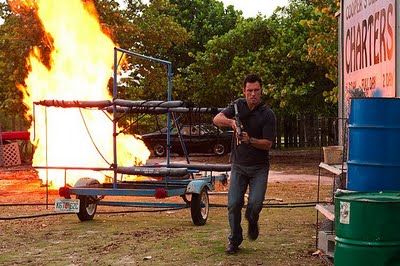 For two seasons, I've found myself in the awkward position of complaining when my second favorite event on the annual sports calendar comes around because USA would preempt Burn Notice for two weeks. When USA lost the broadcast rights to the US Open to ESPN, the knowledge that Michael, Sam, and Fi wouldn't be interrupted was the only comfort. You see, ESPN does shitty tennis coverage whereas USA has done kickass work for twenty years.
And then I found out the summer finale was in August anyway. Aarrrrgggh!
Alright. That's out of my system. The gang will be back in January-ish so tonight's episode, the episodes I have saved on the Tivo, and seasons one and two are all I've got to tide me over. Will it be enough?
Tonight's episode alone might do it.